5 Easy Orchids to Grow at Home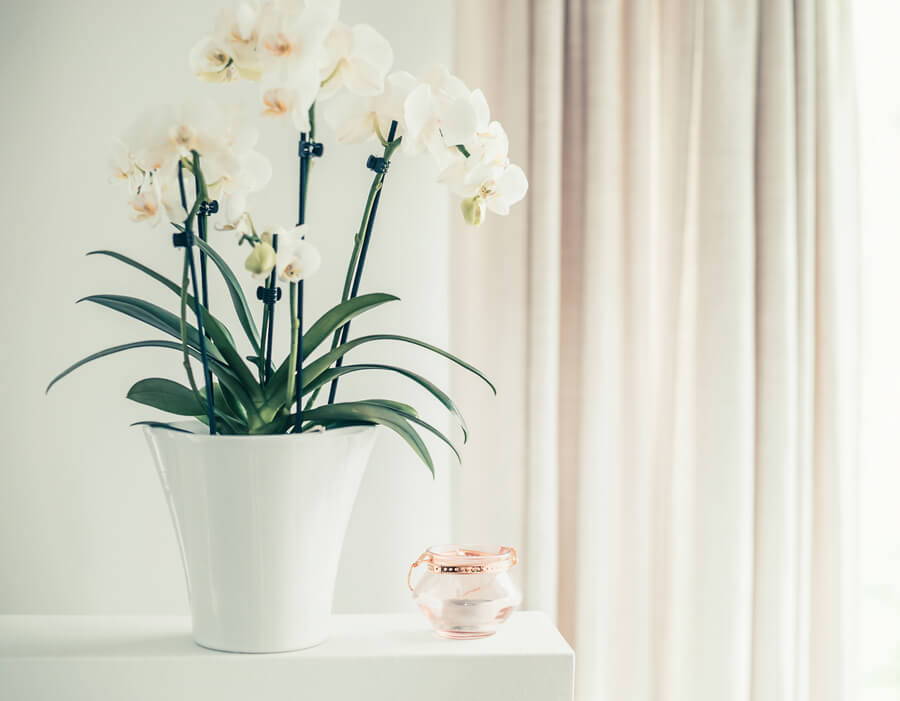 Phalaenopsis orchid in bloom
Choosing which orchids to be your first to grow in your home can be a very daunting task since there are literally thousands to choose from. The choices however, can be narrowed down quite a bit when you consider which ones will grow best in the windowsill or under lights in the home environment. I have chosen a few of my favorites that have a long history of performing well in the home.
PHALAENOPSIS OR MOTH ORCHIDS, EVERYONE'S FAVORITE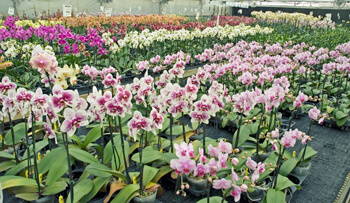 These long flowering, easy-to-grow orchids are hands down the most popular beginner orchids. In fact, 80% or more of all the orchids that are sold in the US are phalaenopsis. Their wide popularity is easily understood. They come in about every imaginable color and size from the full size elegant whites that frequently appear in home decorating magazines to the dainty, charming miniatures that will fit the most space-limited growing space. As you become a more experienced phalaenopsis aficionado you can try out some of the species, fragrant ones, or ones that with variegated foliage that are available at orchid shows or through mail order suppliers.
Phalaenopsis are one of the least expensive orchids to purchase; a healthy plant in full bloom will cost you less than a cut flower arrangement and will stay in flower much longer. These orchids are very undemanding in their cultural requirements. Just give them a warm spot (no cooler than 65F) with brightly diffused light and they will be happy. There are only two important no-no's with these orchids---don't over water them (let them dry between waterings), which is actually true for all orchids, and don't allow water to stand in the crown of the plant. Both of these practices can lead to diseases that have claimed the lives of many phalaenopsis.

TROPICAL SLIPPER ORCHIDS, STUNNING FLOWERS AND FOLIAGE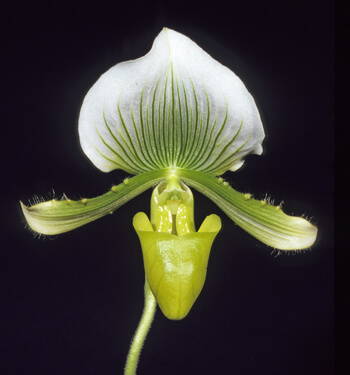 The exotic flowers of these orchids are dramatic and extremely long lasting. Another feature is their gorgeous foliage. It is quite a stretch to say that most orchids are attractive even when they are not in bloom but these orchids are the exception. Most of them are not demanding in their growing requirements and are great companions to phalaenopsis. There is a huge variety of species and hybrids to choose from. One of the species that seems to curry much favor is Paphiopedilum sukhakulii. It has gorgeous foliage, a striking long-lasting flower and is one of the easiest to grow. For hybrids I think my favorites are the Maudiae type paphiopedilums. They come in burgundy-red forms, referred to a "vinicolors" and green and white forms. Both are easy growers and when they are well established, will bloom more than one time a year.
THE ONCIDIUM ALLIANCE, DANCING LADIES OF THE ORCHID WORLD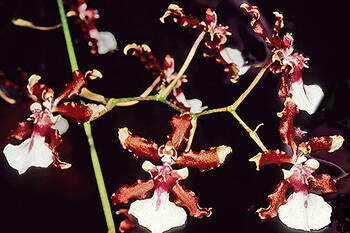 This is a very large and varied group of orchids so there are a myriad of choices. The "dancing lady" moniker comes from the fact that many of the flowers resemble a lady dancing with a full flouncy shirt. They require a brighter spot that both the paphiopedilums and phalaenopsis, and provide a full palate of colorful long-lasting flowers. Oncidiums range in plant size from ones with two foot spikes to miniatures only a few inches high. If I had to pick out the one that wins most popularity contests it would be Oncidium Sherry Baby. This hybrid is not only a beauty in flower but has the delicious scent of vanilla and chocolate. Another one that will suit gardeners with limited windowsill space is Oncidium Twinkles. This is a miniature that only grows 6" or so tall, comes is a variety of colors and has a sweet scent.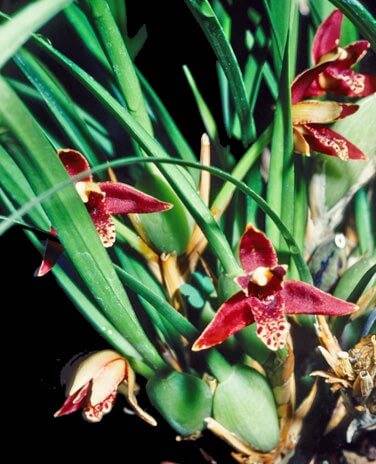 The Coconut Orchid, Maxillaria (Maxillariella) tenuifolia has attractive grass-like foliage, a compact growth habit, and charming brick-red flowers that are really nice but its winning feature is its mouthwatering fragrance of roasted coconut.
The Octopus or Cockleshell Orchid, Prosthechea cochleata, is most notable for its unique flowers that look like they are upside down. This cast-iron orchid is easy to grow and once it is established will be almost constantly in flower. Another plus is its pleasant fragrance. Another Cockleshell-type that also shares the reputation for ever blooming, easy culture, and fragrance is Prosthechea fragrans. As the name imply is has a sweet scent and, on an established plant is pretty much ever blooming.
This is just a sampling of the possibilities. One of the reasons that orchids have sky rocked in popularity as an indoor plant is that they offer an unbeatable range of flowers of unparalleled beauty. Take the plunge and try a few of these out. You will soon find ones that are ones just right for your growing area. I must warn you, though, once you get started on this orchid growing path it is very difficult to stop!

You May Also Be Interested In